Air Branch Offices (Airbos)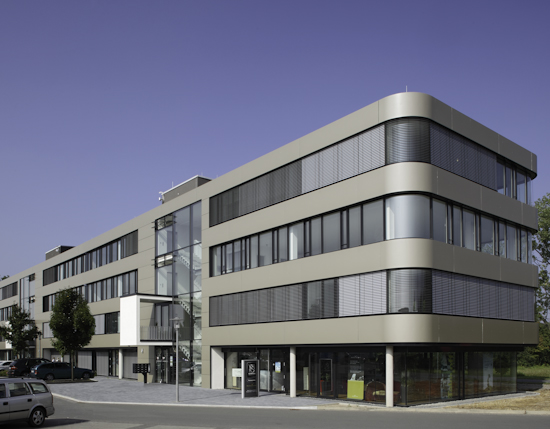 The Air Branch Offices is a comfortable office building fulfilling the current technical requirements.
A spaciously wide stairway leads to the three floors which can be flexibly sectioned. The first floors can be directly accessed from outside. The horizontally arranged front, which has a rounded facings, the metallic parapet wall, the horizontal lines as well as the outer sunblind are responsible for the racy appearance. The titanic colored shine of the parapet creates elegance, value and a distinctive appearance. Since Netjets has acquired the majority of interests of HFG (owner and user of Frankfurt-Egelsbach Airport) a new era has started. Netjets will enhance the airport by investing roughly 40 million Euros. The Konzeptbau-Invest intends to enlarge the Airbos building in an additional construction stage, so that roughly 5000 square meters of office, shop and exhibition area will be available in the excellent surrounding of the airfield. The intended investment of roughly 400 million Euros will enhance the exquisite prominent importance of Business Aviation in Europe.

Macro location - Air Branch Offices (Airbos)
The airfield Egelsbach is located in the in the Rhine-Main region, one of Europe`s most dynamically growing industrial areas, close to the international airport Frankfurt. Due to its annual amount of air activities, the Airfield Egelsbach is the greatest airfield of the general aviation in Germany. About 2000 national and international destinations can be approached nonstop from Egelsbach.
The construction of the landing strip of 1400 meters was finished end of 2004. This rings in a new era for the airfield due to the necessary runway space for professional business flights.
The building is mainly available for current resident flight-minded service providers but also for companies interested in settling there.
Micro location - Air Branch Offices (Airbos)
The airfield is the location for aeronautical companies, police helicopters, smaller aeronautical businesses, several aviation associations, airplane and helicopter academies, aerial photo companies as well as other aeronautic-related enterprises. The airfield and its accommodations is open 365 days a year for travelling salespeople, passengers, pilots, pilot trainees and other guests and interested people.