Fachaerztezentrum am Klinikum Darmstadt
On the ground of the Klinikum on the corner of the streets Bleichstraße and Grafenstraße 13 the new medical specialist center (FAZ) has been already built. A first floor, another four stories and a stacked story on top of the building provide a total area of 7000 sqm, on which several medical specialists and specialized medical facilities for long-term artificial respiration for children, an ambulant rehab hospital and the KfH (curatorship for dialysis and kidney transplant) are placed. A drugstore, a supplier of medical equipment are placed on the first floor. The FAZ can easily be reached as its broad underground garage holds 260 parking lots for patients and visitors, offering a direct access to the building. The building has been already built in the summertime of 2012.

second construction stage
"Better off with two"
... that is why we realise the second construction stage of the medical specialist center. The first construction stage is already fully rented and is opened in summer 2012.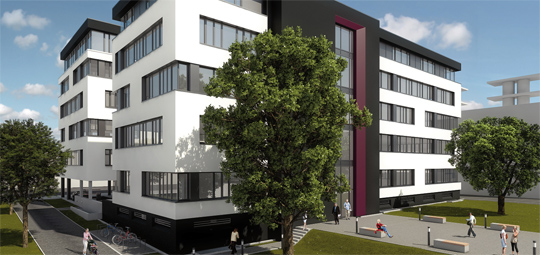 Macro location - Fachaerztezentrum am Klinikum Darmstadt
Darmstadt is centrally located at the Rhein-Main region and has perfect traffic connection to the highways and freeways. Highway A661 and the connection to the "Darmstädter Kreuz" of highway A5/A67 offer a smooth transition to the surrounding metropolises Frankfurt, Wiesbaden, Mainz und Mannheim. The main station offers connections Stuttgart-Heidelberg-Frankfurt (via ICE) and Mannheim-Frankfurt (via IC). Regional trains connect to Mainz, Aschaffenburg and Erbach im Odenwald.

Micro location - Fachaerztezentrum am Klinikum Darmstadt
The site of Darmstaedter Clinic, the most extensive medical institution in the southern part of Hessen, is centrally located on the corner of the streets Bleichstraße and Grafenstraße. Coming via the B26, B3 or Rheinstraße you can directly reach the site. The nearby Luisenplatz is the "intersection" of the local public transport. Taking tramline 3 you can reach the main station in a few minutes. There is an underground garage on the site, another one directly under the Fachaerztezentrum is completed in the springtime of 2012.