NSB Service Center Bayreuth

In the ?Wagnertown? Bayreuth a service center with 13500 sqm rentable area has been build in best location. The medical and office areas have been individually designed for its tenants. The reconstruction of the landmarked house revived the traditional ?new spinnery of Bayreuth?. The slogan ?experience health and service? shows that the NSB building puts a great focus on trade, health and service.

Macro location - NSB Service-Center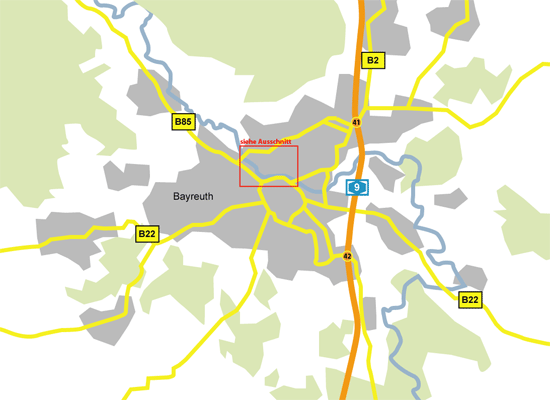 The seat of government of the federal state Oberfranken is located in Bayreuth. The city has perfect traffic connections to the highway A9 to Nurnberg/Munchen and Hof/Berlin as well as to the highway A70 to Bamberg/Schweinfurt. The main station is in a mere distance. It offers hourly connections to the ICE-station in Nurnberg.
Micro location - NSB Service-Center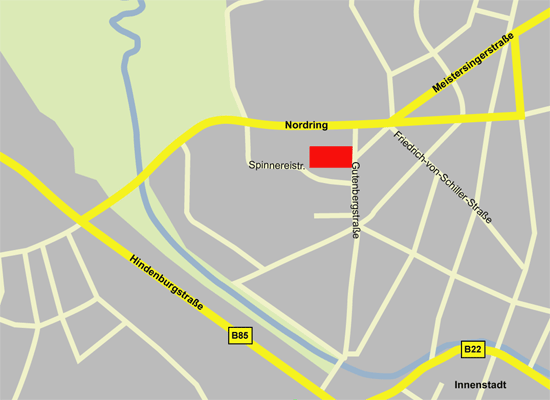 The NSB service center is located in the middle of downtown and the popular festival theatre of Bayreuth, which attracts thousands of visitors from all over the world year after year. The Gutenbergstraße connects the NSB area with the center of the town. The closeness (500 meters) to the market place is excellent. The northern roundabout offers short distances in many directions. It connects the freeway B85 with the industrial area ?St. Georgen?. The on-ramp ?Bayreuth Nord? to A9 Berlin/Munchen is in the immediate vicinity.

Photographs of the NSB before clearance