Behordenzentrum Sossenheim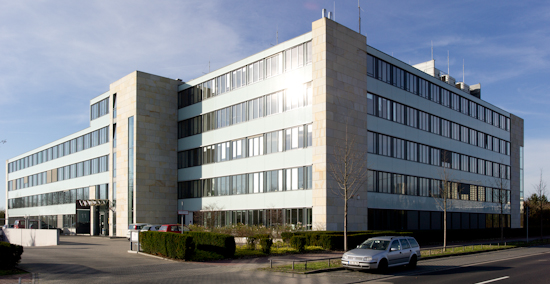 Macro location - Behördenzentrum Sossenheim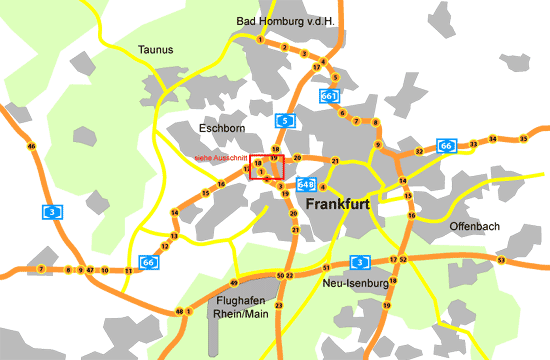 As a business center the Rhein-Main region offers roughly 464.000 job positions. More remarkably, Frankfurt has 660.000 citizens. Each day about 300.000 employees shuttle to the city, where 44.000 companies reside. Citizens of Frankfurt live in the midst of the greatest forest and the low mountain range of Taunus. No place has a faster pace than the Zeil, one the busiest best-selling shopping streets in Germany. Nonetheless, Frankfurt am Main is cosy. Apple wine taverns, which can be found in every neighbourhood, allow you to leave your everyday worries behind after hours.
Micro location - Behördenzentrum Sossenheim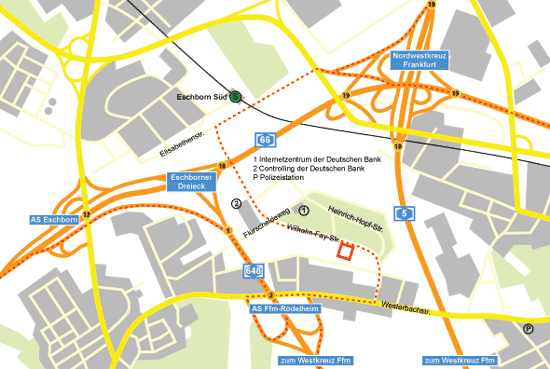 The special advantage of the location is its perfect traffic connections and the closeness to the highways A5 to Kassel, A66 to Wiesbaden and the A648. The connection to the local train stations and bus stops is excellent. The downtown of Frankfurt, the airport and the outer conurbation areas are in short distance.