Exclusive semidetached houses in Zwingenberg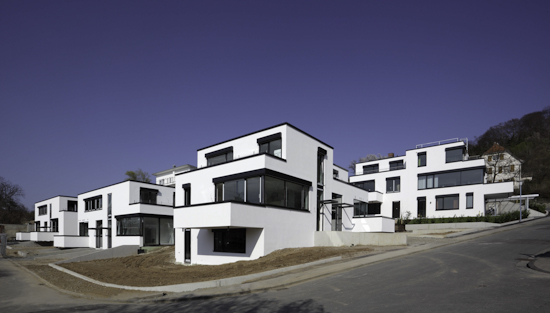 End of 2009 an ensemble of four high quality detached houses will be built on the beautiful hillside location of Zwingenberg along the Bergstraße. The whole building project consists of four semidetached houses on a hillside situated above the Jugenheimer Straße. Each of the houses has a staggered upper floor, one story proper and a basement. The architecture has the stylistic elements of classical modern. Spaciousness, representative, open floor plans, light-flooded rooms and grand patios make individualized living a reality. The location "Auf der Heide" offers many advantages: a good neighbourhood, fast connection to the Rhein-Main region, a beautiful view of both the Rhine low regions and of the woody hills of the Bergstraße.
Macro location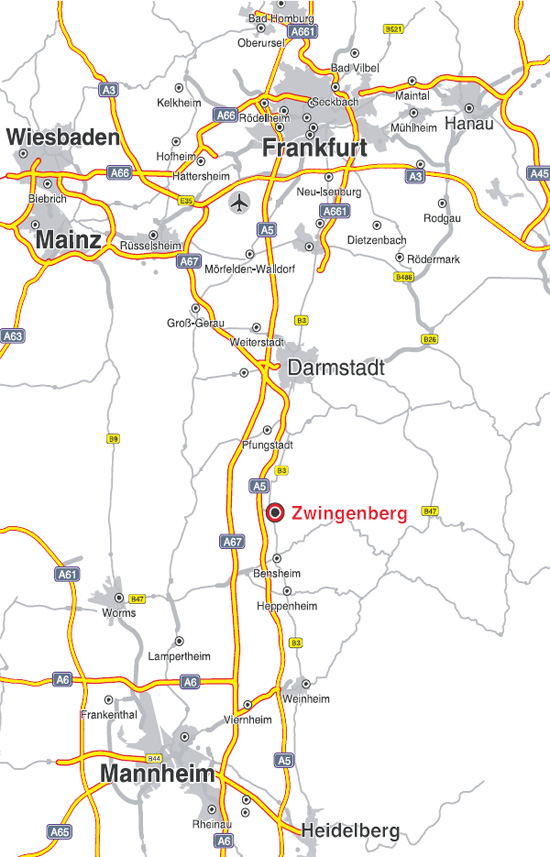 The geographic location of Zwingenberg is very favourable. Due to an excellent infrastructure the town can easily be accessed via freeway B3, the highway A5 Basel/Frankfurt or by taking the train Main-Neckar-Eisenbahn (Frankfurt-Darmstadt- Mannheim/Heidelberg). The Frankfurt airport is 45 km away. In a westward direction there are very good traffic connections to the Ried communities.
Micro location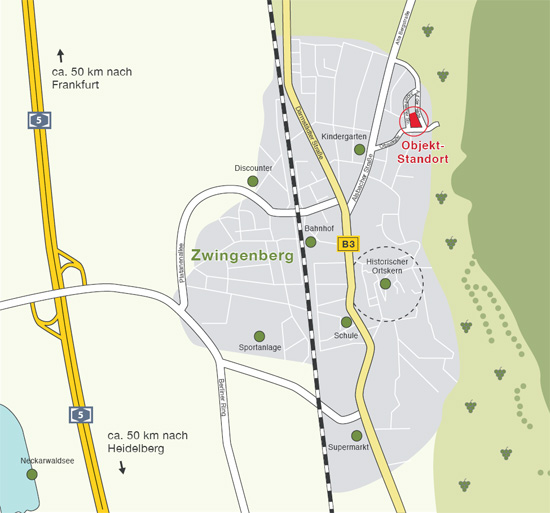 Zwingenberg is the oldest town on the Bergstraße located in the outskirts of the Odenwald in the district Bergstraße and in the administrative district Darmstadt (Hessen). The small town has a very attractive old town, structurally and historically very interesting half-timbered houses, a church on the hill and an ancient castle. In an eastward direction the highest mountain of the Bergstraße, the Melibokus, rises to a height of 517 m. The mountains protect the loess-covered slopes from the cold east and north winds so that the borealis and easterlies can have a timely entry. The mild climate and fertile grounds give favourable growing conditions. Beside peach, cherry and almond tress, figs and citrus also blossom. The social life is well developed. The citizens have joined in more than 50 associations. These offer various leisure activities. Additionally the "cellar-theater", the local history museum and several art exhibitions in the renowned depot of the ancient district court contribute to the active cultural life. Highlights of the year are the Zwingenberger Kerb, the student party, the wine festival, the leisure art markets and the great Christmas market.